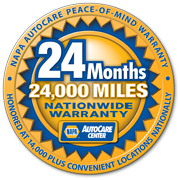 The NAPA AutoCare Peace of Mind Warranty
Covers Parts and Labor on Qualifying Repairs and Services for 24 Months/24,000 Miles.

There's no greater peace of mind than knowing you have one less worry by having your vehicles serviced by the professionals at your local NAPA AutoCare Center. They stand behind their work with the NAPA AutoCare Peace of Mind Warranty.

It's a written warranty that is honored at more than 14,000 locations nationwide - more than any other automotive repair brand.

So - no matter where your travels take you - if you ever experience a problem with a covered repair, you can count on a NAPA AutoCare Center being nearby.



What are the Benefits to You?
Included FREE with your qualifying repair or service work.
Covers parts and labor on qualifying repairs and services for 24 months/24,000 miles.
Extend your coverage to 36 months/36,000 miles when you use your NAPA AutoCare EasyPay Credit Card (applications available at participating locations).
Honored nationwide by thousands of NAPA AutoCare Centers, so you're protected even when you travel.
1-800-LET-NAPA (538-6272)
coupons
Includes Emissions Test. Cars & Light Trucks only.
Testimonials
Deborah Odette

, 06/26/2020
I was leaving on a weekend trip with my grandson and nephew to Boothbay Harbor when I went to use my brakes and my foot went to the floor. After going to a couple of places I was referred to Dynatune. They were busy but got me in and two hours later we were on our way. The guy said it was a good thing I got it checked my tire would have caught on fire. I am so thankful for their awesome service.
view all reviews